Climbing Mt. Kilimanjaro is for many traveler's dream, the Rongai route starting from the east of the mountain towards west. Only a limited number of groups are allowed on the route at any time.
Rongai Route Kilimanjaro Climb – 6 Days Trek + 2 Travel Days

Kilimanjaro is among the most diverse and rewarding of the world's great climbs. Climb Africa's highest mountain and one of the Seven Summits. Experience the thrill and challenge of high altitude climbing.

---

The Rongai route ascends Kilimanjaro from the north-eastern side of the mountain, along the border between Tanzania and Kenya. This route retains a sense of unspoilt wilderness and offers a different perspective on Kilimanjaro by approaching it from the north.
The topography of the route does not allow for the application of the climb high and sleep low principle and hikers generally suffer more from altitude sickness on the Rongai route compared to other routes (an additional acclimatization day is highly recommended on this route). The Rongai route use the scree summiting path from Kibo hut to Gilman's point and descend via the Marangu route.
The main itinerary difference between the Rongai 6 day and 7 day routes is the additional acclimatization day at Mwenzi Tarn hut (Camp)
---
Program overview

Location      –     Tanzania, East Africa

---

Season        –      April – February

---

Length        –     8 Days

---

Trekking Kilimanjaro distance  –  58Km – (37Miles)

---

Starting point altitude  –1996m  (6549 ft)

---

Highest point  –  5895M –  (19343 F)

---

Age              –    8-82 yrs old   (Contact us if your children's are below 8yrs old)

---

Tours type  –   Guided tours

---

Trip starts   –  Moshi/Arusha town

---

Trip ends  –   Moshi/Arusha town

---

Kilimanjaro difficulties  –   Moderate to difficult trekking at 12000+feets, high altitude – extreme high altitude

---
Talk to us before booking your international flight to Africa
---
1 Nights at Hotel in Arusha/Moshi

6 Days Kilimanjaro Climb

1 Night at Hotel in Arusha/Moshi

---
Travel Insurance
Purchasing travel insurance is highly recommended for all trips. Travel insurance policies frequently cover costs associated with plane tickets, personal or medical emergencies, rescue, evacuation, trip cancellation, and theft. Individual participants are responsible for any costs associated with leaving the trip early for any reason.
We have worked with numerous travel insurance groups and have found the Adventure Travel Protection Plan from Travel Guard is the best one available and one of the only policies that covers climbing/ hiking at altitude.
Please note that there are significant benefits if you purchase this insurance within 15 days of making a trip deposit.
To learn more, click on the link below, enter your state of residence and then click on the "More Info" tab under the Adventure Travel Protection Plan. Once your questions are answered, you can then purchase the plan directly from this site.
---
Departure dates and time
The departure dates for all of our east African safaris, tours and travel and other trekking packages are totally flexible according to your own personal needs. Please contact us for further and more detailed information, as well as information on all our safaris tours, travel and trekking Kilimanjaro packages into Tanzania and east African in general.
Additional information
From the Lodge/hotel:The guides will meet you the afternoon before the trip at the hotel/Lodge and provide you with information about the trip, including what and how to pack before you begin your trekking adventure and any other last-minute questions. The day your trek begins, breakfast is served at 6 am and the guides will be on-site for you withvehiclesto transfer you to the starting point,which is about 2-3hrs drive from Moshi and Arusha to the Lemosho trail starting point. Here you will meet the rest of your crew and set off at a leisurely pace into the dark forest of Lemosho.
Day 1: Kilimanjaro
Rongai Gate (1950m ) to Simba camp – First Cave (2600m)
Hiking time: 3-4hrDistance:
Approximately 8kmHabitat:
Forest (Montane
Registrations will take a place at the Marangu gate, after which you transfer approximately 2 ½ hours) to the Rongai trailhead. Sign in and meet your team crews, just right after the introduction, you begin your trekking on a wide path that wind through the fields of maize and potatoes before entering the pine forest. The track then starts to climb consistently, but gently through attractive forest that shelters a variety of wildlife/birds. The trail is not at all steep, but is rather a gentle hike through beautiful country. The camp is at the edge of the Moorland zone. The first night's Simba camp is at about 2,600m. Water can be found just down the trail below the Camp during dry season. This evening you get to see the extensive views over the Tanzania and Kenya plain.
Day 2: Kilimanjaro
Kikelelwa Camp – Cave (3600m )
Hiking distance-9Km
Hiking time: 4- 5hr
Habitat-Moorlands
The trail continues up towards Kibo hut, passing Second Cave. After lunch, you leaves the main trail and strike out across the moorland on a smaller path towards the standing peaks of Mawenzi peak which is the second peak tall in Kilimanjaro national park, but more of a technical climb.  The views start to open up and you begin to feel you're on a really big mountain as the air get thin! Today's camp, the second on the journey up the mountain, lies just before the saddle that connects Mawenzi, Kibo and Uhuru peaks. The campsite is in a sheltered valley with giant Senecios/Lobelia, one of the largest species of flowering plants. Water is in the obvious stream below the camp, although you might have to wander downhill a way to find some. Overnight a (Kikelelwa Camp.
Day 3: Kilimanjaro
Mawenzi Tarn hut – Camp (4330m)
Hiking distance-8Km
Hiking time: 3 – 4hr
Habitat: Moorlands-zone
A short but steep climb up grassy slopes offers superb views of this wilderness area. The vegetation zone ends shortly before you reach your next camp at Mawenzi Tarn hut/camp spectacularly situated beneath the towering spires of Mawenzi peak. This location not only allows you to savoir some thrilling views across from Kibo, but offers a chance to rest and further acclimatize before continuing on to higher points on the mountain Spend the afternoon acclimatizing and exploring the area.
Day 5: Kilimanjaro
Summit Attempt)Kibo hut ( 4700m )Uhuru Peak (5895m )Horombo hut ( 3720m )
Hiking time: 6hr to Uhuru, 3h to Horombo
Habitat stone scree / ice-cap summit
Distance: Approximately 6 kms ascent, 21 kms descent
You will rise around 23h30, and after some tea and biscuits you shuffle off into the zigzag night. This is where the going really gets tough. The first section of the trail consists of a rocky path to the Hans Meyer Cave (5150m), also a good resting spot. The path then zigzags up to Gillman's point (5 681m), which is located on the crater rim, here you can rest and enjoy the views of the glaciers at the crater rim, soaking in what will be one of the most spectacular sunrises of your life. This section is very steep with a lot of stone scree, requiring a great physical and mental effort. This is probably the most demanding section of the entire route. Do the Kili shuffle and move slowly. From Gillman's Point during the rain season you will normally encounter snow all the way up to Uhuru peak (5895m), the highest point in Africa. Reaching this point around 6-8am will give you the most spectacular views, and you need to snap your photos before the clouds set in. After a well-deserved celebration at the top of Africa, descend straight down to Kibo Hut for lunch, maybe a rest then on to Horombo Hut for the last overnight. . The total time spent walking on this day is around 14 hours, so be prepared for a very tough day, but with full of memories. Later in the evening you enjoy your last dinner (with soft drinks and beer for sale at the camp office) on the mountain and well-earned sleep, filled with memories and stirring emotions.
Day 6: Kilimanjaro
Horombo hut ( 3720m ) to Marangu Gate ( 1980m )
Hiking distance-11Km
Hiking time: 6hr
Distance: Approximately 27 kms
This morning enjoy a leisurely hike of 5-6 hours through lovely lush rainforest to the trailhead at Marangu Gate. Stop at the Mandara hut for hot lunch, then continue down to the Marangu gate. At Marangu gate you sign out your name and details at the registration office. This is also where successful climbers receive their summit certificates. Those climbers who reached Gillman's Point (5685m) are issued with green certificates and those who reached Uhuru Peak (5895m) receive gold certificates. You now drive back to Moshi for a long overdue hot shower,Pool, dinner and celebrations!! Overnight at the hotel/Moshi or Arusha.!
TRIP EXTENSION: Continue to uncovering the secrets of Africa on one of our exciting optional extensions.
Balloon safari.
Horseback safari.
Walking safari
Motorcycle safari, Mountain biking safari.
Magic Ireland of Zanzibar.
Culture Tour.
Maasai boma visit.
Upon arrival in Arusha/Moshi you will have Dinner and then we will end our climb. The group should tip the guides and porters, around $250-400 (Per clients) per trip, this will depends on number of climbers.
Please note this itinerary is subject to change with or without prior notice according to local conditions or national park rules.
Airport pickup & drop off2 nights before and 1 night after the climb BB.

Mountain Guide, Cook, Porters

Park Fees

Camping fees

Rescue Fee

Air rescue fees, in case of an evacuation

All Camping equipment, Tents, chairs, table

Mess tent

All food and Catering equipment's, breakfast, lunch and dinner

Certificate of Achievement

Free storage of excess baggage not required on the Mountain

Fully equipped High Altitude and Wilderness First Aid Kit/S

Oxygen tank/

Summit-Trails Complimentary T-shirt

EXCLUDED IN THE PACKAGE
All Drinks/waterLaundry at hotel

Personal gears/rental

Sleeping bags/rental

Sleeping matt/rental

Gratuities/ Tipping

Medical insurance

Travel insurace

Visas

Any excess luggage more than 15 KG per client

Any amendments to the above itinerary

Tax (VAT)
Understanding Altitude Symptoms and how to avoid it

Our itineraries are designed to provide participants with a positive high altitude experience.
---
Altitude sickness can easily be avoided. The best way to prevent altitude sickness is to take your time climbing Kilimanjaro. Opting to save money by climbing the mountain as quickly as possible is a false economy: the chances are you will have to turn back because of altitude sickness and all your efforts (and money) will be wasted. According to our experience and the Mountain experts and Expedition Advisory Committee at the Royal Geographical Society, the recommended acclimatization period for any altitude greater than 2500m is to sleep no more than 300-500m higher than your previous night's camp, and to spend an extra night at every third camp.
Take a pre-acclimatization climb before tackling Kilimanjaro or Choose longer route to give your body enough time to acclimatize.
---
As anyone who has ventured thousands of feet above sea level can attest, altitude sickness can be a real and uncomfortable (sometimes dangerous) condition.
It packs such a punch, in fact, that most people who vacation in the high country are assaulted with tips to avoid altitude sickness.
Trust me. Even though I have summited Mt. Kilimanjaro (114) times to the top and my body is relatively acclimated, I always experience a change when i go to the mountains.
I follow my own tips to ease my body through the physical shock of oxygen deprivation, aridity, and a powerful sun.
The higher you go, the thinner the air. Get too high too fast, and your body doesn't get the oxygen it needs.
Most people can reach 8,000 feet without experiencing altitude sickness. But the ailment can strike as "low" as 5,000 feet above sea level.
Common altitude sickness symptoms can strike anyone—regardless of their fitness level, or where they are coming from.
They include:
Slight+ headaches
Dizziness
Loss of appetite
Nausea/vomiting
Fatigue/loss of energy
Insomnia
Without further ado, I present my perennial tips to avoid altitude sickness in the mountains:
1. Hydrate
This is one of the best way to help your body adjust to high altitude. Generally the low humidity at altitude keeps the air dry, so you should drink twice as much water as you would at home.
Also keep in mind that you want to add water to your body, not deplete it. At least initially, avoid caffeine and alcohol 🙂
2. Replenish
Foods rich in potassium are great for acclimating. Some good staples to eat include broccoli, bananas, avocado, cantaloupe, celery, greens, bran, chocolate, granola, dates, dried fruit, potatoes and tomatoes.
Do your body a favor and decrease salt intake.
Additionally, complex carbohydrates are great for stabilizing your blood sugar and maintaining energy. Eat plenty of whole grains, pasta, fruits, and vegetables.
3. Easy does it
You've been planning an epic winter/high altitude vacation for months. But this is the first time you've login above 6,000 feet.
You will feel the effects of exercise more at altitude than at home. By all means, get after it. But dial back the effort if you're short of breath, sore, or consistently fatigued.
4. Shade yourself
The big sky country of the mountains isn't a figment of your imagination. There's less water vapor in the air here, which makes the color of the sky bluer than the sky at home.
That's pretty hah!. It also means there's 25 percent less protection from the sun. If you don't lather up with sunscreen 35+SPF—a proper amount to apply is a shot glass worth each time you burn. This is true regardless of your complexion.
5. Acclimatization
This isn't just a technical term mountain climbers throw around to sound cool. Adjusting to higher altitude can take a few days.   If you have the time, consider spending a night or two at an intermediate altitude—say, spend a night or two in Moshi/Arusha town as it is your base town of Mt. Kilimanjaro before heading up to the high altitude
6. Prepare
The days might be warm. But when that big ball of fire goes down in the sky, mountain nights are cold+
7. Seek help
Whether your symptoms are consistently mildly uncomfortable or they're acute, altitude sickness is real and can be debilitating.
Talk to us about Diamox options;
---
DEPARTURE DATES AND TIME
The departure dates for all of our east African safaris and treks tours and travel and other adventure packages are totally flexible according to your own personal needs. Please contact (us) for further and more detailed information, as well as information on all our adventure packages into Tanzania and east African in general.
Tipping on Kilimanjaro – the breakdown looks like this.

---

1 climber   –       1 guide / 2-3 porters / 1 cook
2 climbers  –       1 guide / 5-6 porters / 1 cook / 1 assistant guide
3 climbers  –       2 guides / 8-9 porters / 2 cook / 1 assistant guide
4 climbers  –       2 guides / 11-12 porters / 2 cook / 2 assistant guides
5 climbers  –       3 guides / 14-15 porters / 2-3 cook / 2-3 assistant guides
6 climbers  –       3-4 guides / 17-18 porters / 2-3 cook / 2-3 assistant guides

---
Note: numbers vary depending on the tour company you use. The best companies have a high guide to client ratio.
Tipping on Kilimanjaro – when and who do you pay your tip to?
Tips are usually paid at the end of your hike, after you have reached your final checkpoint and signed out with the authorities. It is customary to pay tips individually in separate envelopes, unless advised otherwise (some tour companies suggest you pay your lead guide who then re-distributes the money). Please check with your operator what their preferred practice is.
Also, some operators suggest that you give your tips at the last meal on the mountain. Unless expressly asked to do this by your tour operator we suggest waiting to distribute tips at the end of your trek.
Tipping amounts are as follows. These numbers are per group, not per climber.
Per main guide – US$20-25 per day
Per assistant guide – US$15-20 per day
Per cook – US$15 per day
Per porter – US$10 per day
Tipping on Kilimanjaro example
For a 6 day trek the total tipping value per group and climber would look as follows.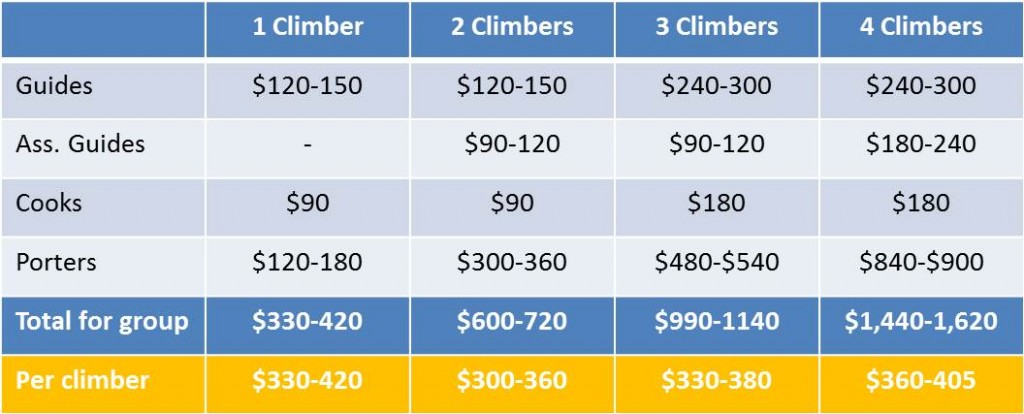 We hope you now have more clarity about tipping on Kilimanjaro.
Short history of Mt. Kilimanjaro
East Africa and the nearby Olduvai Gorge in the Great Rift Valley is thought to be the cradle of mankind. A native Wachagga legend tells of Mawenzi (now one of the lesser peaks of Kilimanjaro) receiving fire for its pipe from his younger brother Kibo (another lesser peak). The Wachagga who live on the fertile volcanic soils around the base of the mountain probably only came to the area about 3000 years ago thus this legend suggests very recent activity. Another of their legends talks of demons and evil spirits living on the mountain and guarding immense treasures. Stories are told of a king who decided to go to the top, few of his party survived and those who did had damaged arms and legs.
Arab and Chinese traders and historians make mention of a giant mountain lying inland from Mombasa or Zanzibar but few early traders ventured into the interior of the continent. Slave traders passed below it and sometimes raided the villages of the Wachagga but it was not till the middle of the 19th century that a more serious interest was taken in the mountain and attempts were made to scale it.
In 1848 Johann Rebmann a missionary from Gerlingen in Germany while crossing the plains of Tsavo saw Mount Kilimanjaro. His guide talked of baridi – cold, and of tales how a group of porters were sent up the mountain to bring back the silver or other treasures from the summit.They came back only with water. Rebmann's report stimulated great interest in Germany and in the following years several expeditions were organised; first by Baron von Decken then later by Dr. Hans Meyer who finally stood on the highest point on the 5th of October 1889.
The origins of the name Kilimanjaro presents somewhat of a dilemma. Many people believe the name is derived from the Kishwahili tribal name, Kilima meaning mountain. The local Wachagga people claim to have no name for Kilimanjaro, but did name the dual peaks Kipoo and Kimawenzi.
Please contact us for your group or individual discount, dates and prices information